Frost's "Peace Through Superior Firepower" T-shirt from Aliens
Thanks to a helpful member of the The Aliens Legacy, I finally got the artwork ready for something I've always wanted: a version of the t-shirt Frost wore in Aliens that said "Peace Through Superior Firepower" above and below a drawing of an M41A pulse rifle. I'm a huge fan of the movie Aliens, and ever since I saw the movie back in 1986, I wanted a copy of that shirt. After following some online dead-ends for sources of such a repro, I realized that the only way to get such a shirt is to make one myself.

I did find images of the original prop t-shirt, but none were suitable for use in making a full-size replica. I was going to photograph my pulse rifle replica and trace the outlines of that, but Willie Goldman of alienscollection.com posted a full-size scan of a previous prop shirt which saved me from going through all that trouble. I did a lot of color-correcting work to isolate the original pulse rifle line drawing from the grey speckled background of the t-shirt that it was printed on. Then I traced all the edges in white then black about six times each with various brush sizes at high magnification levels to get the line thicknesses back to where they should be. I laid a grid over that and the original scan to get proper placement and kerning for the text. It took a lot longer than I thought it would, but I think it turned out OK:
Just to give you some idea of size and placement of that image on a shirt, here's basically what it will look like: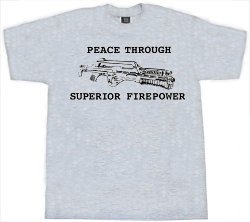 That probably isn't the best representation of what the final product will look like, but it uses the TIFF I'm going to use to print with, and I tried to keep the scale as close as I could.
The shirts I'm going with are Gildan (or Hanes Beefy-T; I'm still not sure which) 6.1 oz. pre-shrunk cotton heavyweights in ash grey (same color as Army PT shirts or your average sweatpants, essentially). The design is black ink, and just a little over 10" wide and under 5" tall. The printouts I have in that size puts the PR right in the "Batman Area" of my chest (I'm 6' 2" and wear an XL shirt). The PR part of the image, if you care, is a bit over 8 inches wide. So even a medium or large shirt should be fine, size-wise. Oh yeah: The design is going to be silk-screened, not ironed on. I didn't think to mention that before, but I've had a lot of mail on the subject. People really still do iron-ons? Takes all kinds, I guess...
If you want a shirt, please email at wrhodes@27.org and let me know the following:
Name on the board (if you're on the the AL board; this makes communication on the fora there easier)
Real name
Email address
Shipping address
Size & quantity of each

Since this took a lot longer than I imagined, I'm going to charge a little more than I originally wanted to. The prices are:
S to XL - $15.00
XXL - $16.00
XXXL - $17.00

I can take Visa, Mastercard, etc via PayPal. Use the email address wrhodes@27.org.
Shipping is $5.00 for one shirt, and $1.00 for each additional shirt in the order. Domestic orders will be shipped via USPS. International orders will be sent via USPS International Airmail at $9.00 per shirt and $2.50 for each additional shirt.
I'm taking orders until Wednesday, September 15th 2004, at which point payments are due. I'm starting the printing on Satureday the 18th. Once I know how many shirts to buy, I'll start shipping the 25th of September. I'll send everyone an email when their shirt(s) ship. I'll be making a couple extra shirts for friends and such, but I won't have many available after 9/15.
If you've reached this page after 9/15/2004 and want a shirt, send me an email and let me know what you're after. I might still have some extras left over. If you want more than a couple (or you can scrounge a couple friends together who also want a shirt), I'll make a new printing run. If you want less than 24 shirts, then the cost per shirt will be a little higher than what I have above.